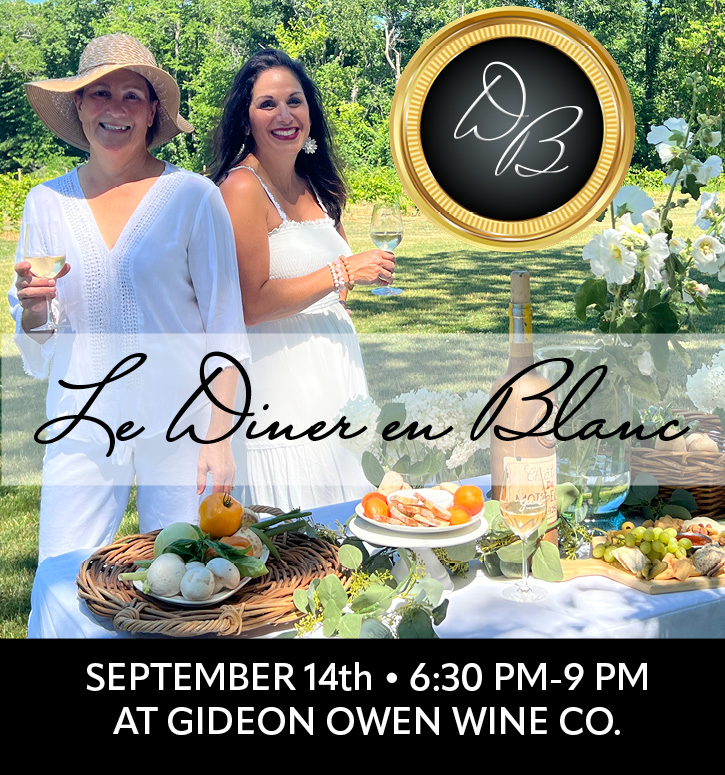 ayurvedic cooking series
le diner en blanc
Friday, september 14th
6:30 - 9pm
Gideon Owen Wine Co.
Le Diner En Blanc (Dinner in White) began in Paris in 1988 and has become a worldwide phenomena, spanning six continents in 70 different cities around the world! Now Rose and Donna are bringing this unique, one of a kind event to Catawba Island!
‍
Take a break from the hustle and bustle of everyday life and enjoy a night cooking, eating and drinking together, while taking in the beauty of nature among the stunning vineyards of Gideon Owen Winery.
‍
Come DRESSED ALL IN WHITE for our elegant OUTDOOR* pop up picnic dinner party and hands on cooking class.  We'll begin with an appetizer course where you'll learn how to build a French Cheese & Charcuterie Board.  Our main course will feature several classic French dishes and we'll end with a decadent dessert course;  a White Chocolate Fondue Fountain with marshmallows, pound cakes and fresh fruits for dipping.
‍
A carefully curated selection of delicious white wines will be featured with each course.
The fee to attend is just $139 and includes:• Champagne Meet & Greet
• Cooking Class
• Dinner Plus Three Wine Pairings
• Recipe Booklet
• Gideon Owen Wood Cheese Board and French Flour Sack Kitchen Towel from Root to Rise to take home after the event.

Join us at Gideon Owen Wine Co.
3845 E. Wine Cellar Rd., Port Clinton
Register online via KarmaSoft on our sister website.
‍‍
Space is limited and this event will sell out quickly!
In the event of rain, we will return inside Gideon Owen's Banquet Hall.