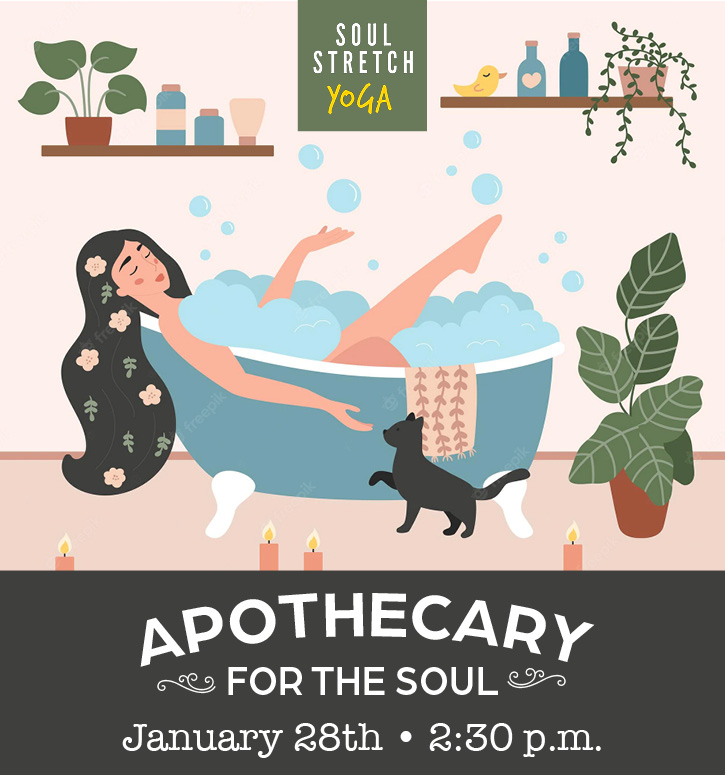 Apothecary for the soul
A Make and Take Workshop
January 28th • 2:30-4:30 p.m.
at Soul Stretch Yoga
‍
Do you every worry about what is in your bath and body products? Have you ever wanted to get creative and make your own natural lotions, potions, soaps and salts for a more luxurious HOME SPA experience?

Bring a friend and JOIN US for an afternoon filled with learning, making and community!  In this hands-on Make & Take workshop, participants will first learn all about the healing powers of water, followed by the history and basics of aromatherapy.  Then, our Yogi Apothecary, Nikki Haghiri, will guide us on how to create three natural skin care products (nourishing bath teas, exhilarating sugar scrubs and exfoliating hand poured soaps) which we will Make and Take home.

The workshop includes recipe handouts so you create future products for keeping skin healthy over the harsh winter months, or to gift to your loved ones.

The cost to attend is just $49.00 and includes all take & make materials, wine, coffee and snacks (courtesy of Root to Rise Wellness Café). Space is limited and this Workshop will fill up! To reserve your spot via KarmaSoft, or call Rose at (440) 223-7673.
‍